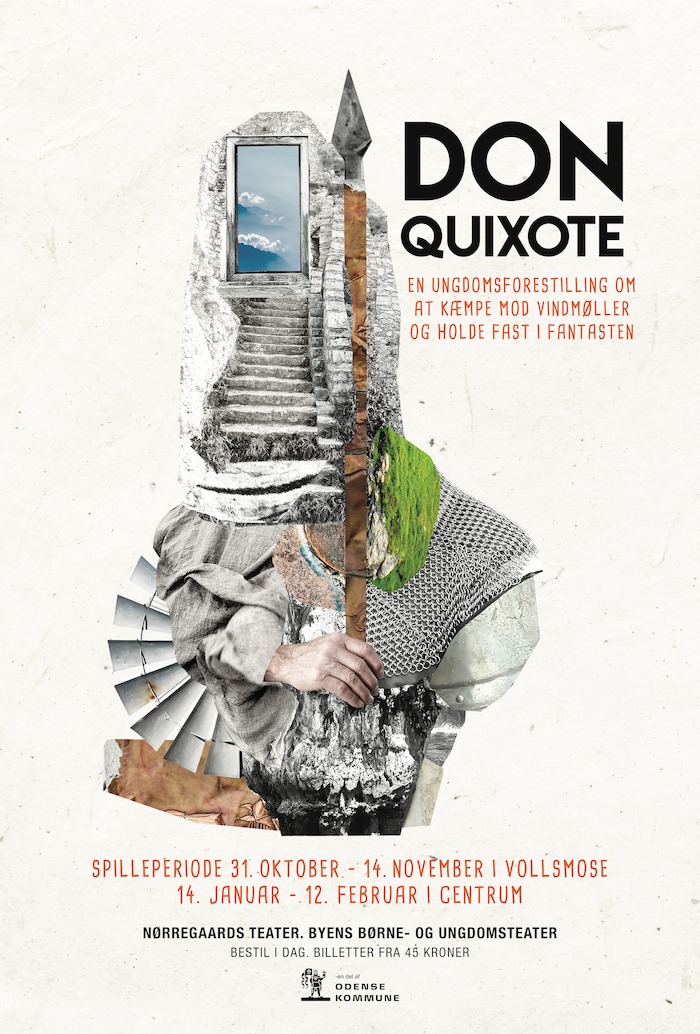 I'm curreltly working on the score for the play Don Quixote on Nørregaards Teater, Odense Denmark.
The play is based on Miguel de Cervante's novel in a reinterpretation by Herweg de Weerdt og Jur van der Lecq – translated to danish and edited by Simon Vagn Jensen
Miguel de Cervante's immortal novel classic from 1605 about the deplorable knight Don Quixote is, together with later theatrical interpretations, the basis of this new production. Don Quixote will be a knight and have his princess Dulcinea, and Sancho Panza, his sensible weapon, will have his island. Together they fight against windmills and shadows; they fight for the right to be knights in their own lives. It is a drama in which deadly battles against inner demons are fought between the Fantastic and the Reasonable. Don Quixote contrasts with the coveted "normal", and a battle is fought to find the balance between the two extremes, so that on the safe island of normality there can also be room for the fantastic.
A performance about hopes and dreams, about being wild and deviant, about madness and madness, and about love, struggle, defeat and courage.
Cast:
Don Quixote: Bo Stendell Larsen
Sancho Panza: Klaus W. Andersen